Ellen Terry and Edith Craig was the Mother-Daughter Duo that lived in a way that challenged the ideas society held about about women's roles in the early 1900s.
Here, we love women who boss at everything. Be it literature, politics, art, employment, activism. The two women you're going to read about next had it ALL.
Star of the stage Ellen Terry and her thespian daughter, Edith Craig, were two of the jazziest, energetic, and engaging characters of the early 20th century. From defying social norms to sticking it to theatre censorship laws, Ellen and Edith shook up the world they lived in, and everybody they met along the way.
Hooked? Good. Let's start with the mother… via bust.com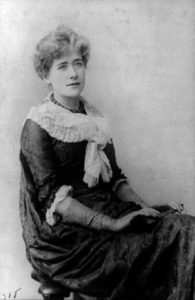 They've been portrayed on stage and screen over the past five hundred years, but never with quite as much wow factor as when Britain's best loved stage actress, Ellen Terry performed them.
And if you want a quick summary of how much Britain loved Ellen Terry, then here it is in a little poem written for her:
'Britain's pride,
The genius of the stage personified,
Queen-like, pathetic, tragic, contemporary, merry,
O rare, O sweet, O Wondrous Ellen Terry.'
Ellen Terry lived a dramatic life on and off the stage. Born to a family of performers, she became a child actress and grew up on the stage, before joining the Theatre Royal at Bristol and becoming famous for her depiction of Shakespearean heroines.
BUT it all went a bit wobbly when Ellen turned sixteen, and married George Fredric Watts, a renowned artist, for whom she had once modelled. Watts was 46 at the time – 30 years her senior! – and the marriage was doomed (again…she was 16!), lasting less than a year.
Ellen returned to the stage, often alongside Henry Irving (who apparently inspired the looks for Bram Stoker's Dracula, don't you know). Henry and Ellen's relationship was intense, and passionate; they partnered in productions for decades.
Ellen was also close to George Bernard Shaw, exchanging letters with him for most of her life. There was even a play written about their letters! Shaw referred to their relationship as a courtship by letters, and wrote to her, in one:
'Do you read these jogged scrawls, I wonder. I think of your poor eyes, and resolve to tear what I have written up: then I look out at the ghostly country and the beautiful night, and I cannot bring myself to read a miserable book…Yes, as you guess, Ellen, I am having a bad attack of you just at present. I am restless; and a man's restlessness always means a woman; and my restlessness means Ellen.'
This article originally appeared on F Yeah History where yo can read the full article.
---
The Life of Ellen Terry
Dame Alice Ellen Terry, GBE (27 February 1847[1] – 21 July 1928), known professionally as Ellen Terry,[2] was an English actress who became the leading Shakespearean actress in Britain.
Born into a family of actors, Terry began performing as a child, acting in Shakespeare plays in London, and toured throughout the British provinces in her teens. At 16 she married the 46-year-old artist George Frederic Watts, but they separated within a year. She soon returned to the stage but began a relationship with the architect Edward William Godwin and retired from the stage for six years. She resumed acting in 1874 and was immediately acclaimed for her portrayal of roles in Shakespeare and other classics.
In 1878 she joined Henry Irving's company as his leading lady, and for more than the next two decades she was considered the leading Shakespearean and comic actress in Britain. Two of her most famous roles were Portia in The Merchant of Venice and Beatrice in Much Ado About Nothing. She and Irving also toured with great success in America and Britain.
In 1903 Terry took over management of London's Imperial Theatre, focusing on the plays of George Bernard Shaw and Henrik Ibsen. The venture was a financial failure, and Terry turned to touring and lecturing. She continued to find success on stage until 1920, while also appearing in films from 1916 to 1922. Her career lasted nearly seven decades.
Ellen Terry as Lady Macbeth
Artist
John Singer Sargent
Year
1889 (1889)
Medium
Oil on canvas
Dimensions
221.0 cm × 114.5 cm (87.0 in × 45.1 in)
Location
Tate
Ellen Terry as Lady Macbeth is an oil painting by John Singer Sargent. Painted in 1889, it depicts actress Ellen Terry in a famous performance of William Shakespeare's tragedy Macbeth, wearing a green dress decorated with iridescent beetle wings. The play was produced by Henry Irving at the Lyceum Theatre, London, with Irving also playing Macbeth opposite Terry. Sargent attended the opening night on 29 December 1888 and was inspired to paint Terry's portrait almost immediately. via Wikipedia
Ellen Terry in Silent Westerns
Ellen Alice Terry (1848-1928) English Actress. Legendary British stage actress who made a few silent film appearances. The daughter of strolling players, she was born in Coventry into an almost exclusively theatrical family. Her grandparents were actors, as were all six of her siblings.
But only her son, Edward Gordon Craig, would in any way approach her fame in the theatre, albeit as a designer rather than as an actor. She made her debut in 1856 at the age of 8 before an audience which included Queen Victoria. By age 11, she had played a dozen roles including Puck. At 16, after showing early brilliance, she played "An American Cousin" (a year before the famed American production clouded by Lincoln's assassination) and then retired. After six years, still only 22, she returned to the stage and in 1875 played a landmark Portia in "The Merchant of Venice." For the next three decades, she played every major Shakespearean role opposite the greatest British tragedians, in England and in America. Her long association with theatrical giant Henry Irving ended with his death, but a year later, in 1906, she began a long professional and personal relationship with. via Wikia
Ellen Terry – Actress
Ellen Terry was one of the most famous and celebrated actresses of the English stage, particularly renowned for her brilliant interpretations of Shakespeare. In a career spanning seven decades and two centuries, her extraordinary talent and intellect won her thousands of admirers both at home and abroad.
Born in a Coventry boarding house in 1847 to a theatrical family, Alice Ellen Terry was, like her siblings, intended for the stage. She had little in the way of formal education and spent much of her childhood travelling the country with her parents who were both provincial actors. She made her stage debut aged nine, playing Mamillius in A Winter's Tale, at London's Princess's Theatre in 1856.
Ellen received training in acting and elocution, developing her considerable potential into a formidable talent. She performed in a variety of productions at leading London venues and at the Theatre Royal in Bristol. Though still a child, she had considerable status as an actor.
Ellen had an unconventional personal life. In 1864, aged just sixteen, she married the artist George Frederick Watts, thirty years her senior, and ceased performing. The marriage lasted less than a year and Ellen returned to live with her family. Having modelled for several of Watts' most famous paintings, Ellen became an inspiration and subject for artists and poets of the era. via Biography
ELLEN TERRY AS PORTIA. She first appeared in this part, one of the greatest of her Shakespearean creations, at the old Prince of Wales's Theatre in 1875, and resumed it at the Lyceum in 1879. via Literature Base
Like any modern celebrity, Terry clearly had a streak of exhibitionist narcissism, and she was as happy to pose as the passive model for other people's fantasies as to dramatize herself in flattering attitudes. In more commercial photographs, she plays to the camera, often "in character' for one of her theatrical roles. She did "at home" sittings too, often dressed in sumptuous Aesthetic robes or Japonaiserie, astutely aware of the effect created and the message transmitted. But Julia Margaret Cameron's exquisite early photograph "Sadness", taken in Tennyson's bathroom during Terry's honeymoon with Watts on the Isle of Wight, may embody real rather than feigned melancholy. via Telegraph
---
More from BUST
The Herring Girls Of Barra Were Forgotten Leaders In The Fight For Working Women's Rights