The most common New Year's resolutions are to lose weight, start exercising, and improve personal finances.
It is important to keep in mind that not all resolutions will work for everyone, so it is important to find one that is realistic and feasible. Some people make small changes such as eating healthier foods or drinking less alcohol, while others make larger changes such as quitting their job or starting a new one.
It is important to set a goal and to be patient with oneself; if a resolution is not working after a month or two, it is okay to change it or abandon it.
Most importantly, make sure to keep track of what goals were accomplished and what goals remained unfulfilled, and make adjustments accordingly.
What makes a new year's resolution popular
There are many things that contribute to the popularity of New Year's resolutions. For example, many people like the idea of setting goals and planning for the year ahead, and they may feel inspired to make a change after a successful year in which they have achieved some goals.
Another reason why New Year's resolutions can be popular is that many people view them as a way to start fresh and start over. Finally, many people feel that making a resolution is an easy way to show that they are committed to themselves and their own improvement.
Why choose a common new year's resolution?
It is no secret that many of us want to make a resolution for the new year. However, there are a few things to consider before settling on a resolution. For example, what is your motivation for wanting to make a change? Do you want to lose weight or increase your productivity? Are you hoping to mend relationships or learn new skills?
The most successful resolutions are ones that are tailored to the individual and based on their goals. When choosing a resolution, make sure to consider the following: what are your personal values and how can you put them into practice? What are your strengths and weaknesses? What do you want to achieve in the next year?
Once you have answered these questions, you can develop specific goals. One of the most common New Year's resolutions is to change our relationship with food. This is a great goal, but it is important to remember that changing our relationship with food is only one aspect of a healthy diet.
List of the most common new year's resolutions
To help you get started on your journey of personal growth, we've put together a list of the most popular New Year's resolutions for 2023. From "shedding the pounds" to "getting more organized", there are plenty of great goals to choose from.
Below are a few of the most common New Year's Resolutions:
1. Shed pounds
2. Exercise more and get fit
3. Give up my smoking habit
4. Organize Life Better
5. Eat better
6. Get a better job
7. Start a new interest
7. Give more to charity
8. Spend more time with family and friends
10. Adjust the way you view yourself.
As we start 2023, and due to the covid pandemic for several years when just getting along at all has been our main challenge, many of us are determined to make positive changes in our lives in 2023.
The start of a new year is always the perfect time to set goals and intentions that will help us reach our desired outcomes.
But, this year as most countries begin finally to put the whole covid episode behind them, will be a year in which we all return to normal life. It's the year in which we can all use our New Year's Resolutions as a tool to raise our own skills and life satisfaction.
But what should our goals be?
The first step in achieving your goals for 2023 is to identify exactly what you want to achieve. Take some time to reflect on your current situation and what changes you would like to make. Once you've determined your desired outcomes, you can begin to make a plan.
Your plan should include deadlines for each goal, as well as concrete steps you need to take to reach it. This can help keep you accountable and motivated to stay on track. You may also want to create an accountability system for yourself—such as having a weekly check-in with a friend or mentor—to ensure that you stay focused.
By setting personal goals and taking steps to reach them, you can make 2023 your best year yet! So get started today, and make your dreams a reality.
Our Suggested New Year's Resolution to Consider – But It's Not the Most Common!
"Giving back to the community" is our suggested new year's resolution for 2023.
As the new year begins, many of us make resolutions to better our lives or communities.
Giving back to your community is an awesome New Year's resolution for 2023. Giving back to your community is a great way to help others while also improving your own life.
There are numerous ways to become involved in your community. You can help a local charity by volunteering, or you can join a community organisation. You can also help a local charity or cause by donating money or resources. If you're feeling particularly ambitious, you can even launch your own community initiative.
Whatever way you choose to participate, keep in mind that your contribution can make a significant difference. Even minor efforts can have a significant impact. You can help make your community a better place by volunteering your time, donating supplies, or simply sharing your knowledge.
Giving back to your community can have a positive effect on your life as well. Not only does it feel good to help others, but it also allows you to form meaningful relationships with people in your community. You can gain valuable skills and experiences that will benefit your career. You may even discover new hobbies or interests that you were unaware of.
Consider making giving back to your community one of your top New Year's resolutions if you're looking for a meaningful way to start the new year. You'll be surprised at how much of a difference you can make and how much of a difference it can make in your life.
Common New Year's Resolution summary and conclusion
As you can see, many of the most popular New Year's resolutions for 2023 are geared toward bettering both physical and mental health.
Whether you want to take better care of yourself, meet new people, or advance in your career, there is bound to be a resolution that speaks to you. So, why not join in yourself? Start making plans for your New Year's resolution success now to make 2023 your best year yet!
If you are going to be successful and not break new year's resolutions, it is helpful to have a plan.
Begin by acknowledging that many people give up before they even start because they don't think it is going to be easy.
Set realistic goals that you are willing to work for.
Find a way to keep yourself accountable such as doing your resolution with a friend and having them test you on your progress regularly.
Reward yourself for meeting your goals. Expectations are key to a successful resolution, so set high standards for yourself share your goals and be prepared to be critiqued.
Finally, maintain your resolve by staying positive and believing in yourself.
---
Content Creators – Did You Visit Us Looking for Article Ideas?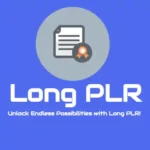 Are you a content creator looking for a time-saving solution? Look no further than Long PLR! This revolutionary product offers Private Label Rights (PLR) articles, ebooks, software, video, audio, & graphics with a professional tone.
With Long PLR, you get time-saving content that you can modify, claim ownership of materials, and even sell! Plus, all of the articles are 1,000 words or more, so you can make a lasting impression on your audience.
Get the content you need without sacrificing quality with Long PLR.